Do you know FXStreet has its exclusive trader's community on Discord? There, Premium users can contact Analysts Yohay Elam and Tomas Salles directly and ask them any questions related to the markets and trading. Here we offer you a selection of the best three questions and answers during this American session.
Don't miss our traders' Discord community. Subscribe to FXStreet Premium!
1  – USER QUESTION – How can Fed Chair Powell's speech affect the market?
ANALYST ANSWER – Yohay Elam: 
While the conference is about the international role of the US dollar – apparently directly about Forex – Powell will only be delivering opening remarks. Moreover, he will likely just say general stuff like recognizing the importance of the currency for global trade, its status as a reserve currency, etc.  
I don´t expect anything related to the current monetary policy. He gives a testimony on Wednesday and Thursday in Congress, which is much more interesting. The Fed will likely publish his prepared remarks just before his appearance before lawmakers – the first market-moving event. He will then be grilled by politicians, and that could also result in market moves.
2 – USER QUESTION – Yohay, you used to be involved in trading computational systems right? I remember many years ago about institutions trying to host data centres close to exchanges, counting on millisecond executions to be ahead of the competition. Is this a thing nowadays?
ANALYST ANSWER – Yohay Elam: 
That was a long time ago, but since then, companies have gotten even more sophisticated in trying to compete for more performance. Getting closer to data centers and liquidity providers is one aspect, another is upgrading computer systems – which is even stronger in cryptos where GPUs are in high demand – and also making algorithms more sophisticated. A substantial part of the trading we see is done by machines. However, being more sophisticated means a need for more computer power and also a loss of speed. 
To get faster, some algos just buy or sell an asset according to the timing, such as precisely 12:30 GMT when US data comes out, regardless of the outcome. Others sell the euro if Lagarde says downside risks, regardless of the context. Artificial Intelligence and speed have improved, but they do not guarantee success.
USER FOLLOW-UP – Thanks for your reply. Changing the topic, let's see if GBP/USD drops support at 1.225 tonight…
ANALYST ANSWER – Yohay Elam: 
Well, GBP/USD has lost 1.2250, the next support line is at 1.2210, which held it down until it broke yesterday.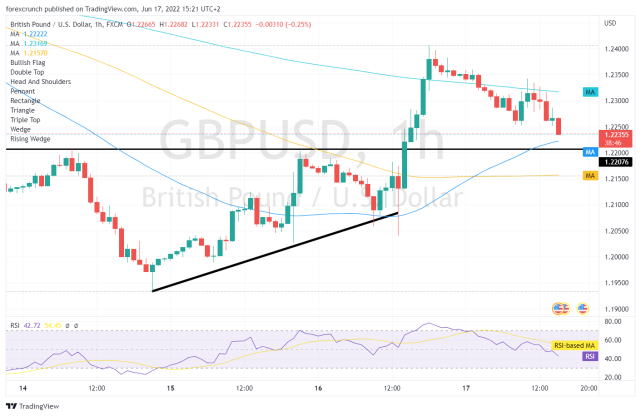 USER FOLLOW-UP – Is the market positioned to see a fade of yesterday's USD sell-off for GBP back to 1.21 intraday? What do you think?
ANALYST ANSWER – Yohay Elam: 
I think there are:
1) A flow to the safety of the US dollar ahead of the weekend.
2) A reversal of some of yesterday's massive dollar losses. 
Will GBP/USD reach 1.21? This currency pair tends to exaggerate in both directions, but there is still a long road to 1.21. I see 1.2210 and 1.2125 defending 1.21. Moreover, I think that today's moves will likely be significant, but not as crazy as yesterday.
3 – USER QUESTION – What's going on with US oil?
ANALYST ANSWER – Yohay Elam: 
The market mood has worsened and that is weighing on oil prices. If a recession is coming, demand for oil would fall. I think that high prices could discourage consumption in addition to recession fears. 
On the other hand, there is a shortage of supply, related to Russia, the lack of a deal with Iran, the reluctance of US shale companies to pump more oil, etc. 
Technically, oil has dropped below the previous support line of 112.50, and the cushion is at 11.05. Further down, I see 109.35 and 108.57 as the next levels to watch. Resistance is at 115.15 and 117.
I think oil will remain under pressure today, as investors are taking risks off the table ahead of the weekend, selling risk assets and rushing to the safety of the US dollar. I believe oil can recover next week, as the bargain-seekers jump in to take advantage of lower prices. Supply remains low and demand has not fallen yet.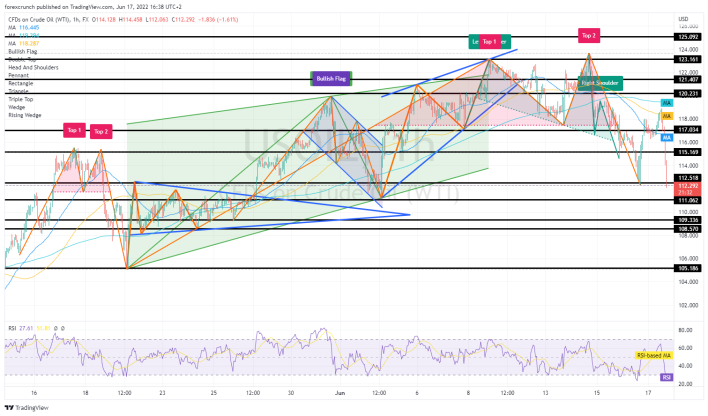 Tags: #Top #trading #insights #FXS #traders #community #American #session #Premium #recap